The Big Book on Tools is a book that goes with our poster with 50 tools. Each of the 50 tools will get its own chapter. The Big Book will be published per chapter and made available online for free in a print-friendly format. Chapter by chapter you'll print your own book! The Big Book is for all people ages 7 and up.
Here it is…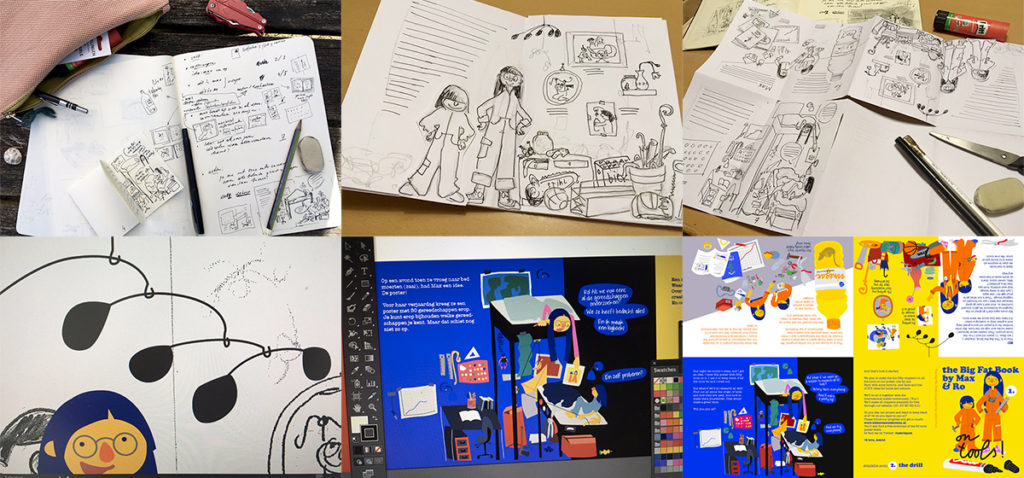 Ever since I announced the Big Book project, it really took of. So with great pride I hereby offer you the very First Chapter. Big thank you to our -tadaaa- core team of international makers that will participate in the project. <3

So here it is!
Chapter one. This very first chapter introduces the main characters and kicks off the project.
About the design:
It's loud! No elegant grey-ish pastels for me. But bright, conflicting colors.
It's unbalanced and restless. I like that. (I've had a lot of print people double-checking projects with me before printing: 'Is this really how it is supposed to look?')
I have a weak spot for cheap (as in free and as in reputation) fonts. I love good old Impact, Comic Sans and -in this case- American Typewriter.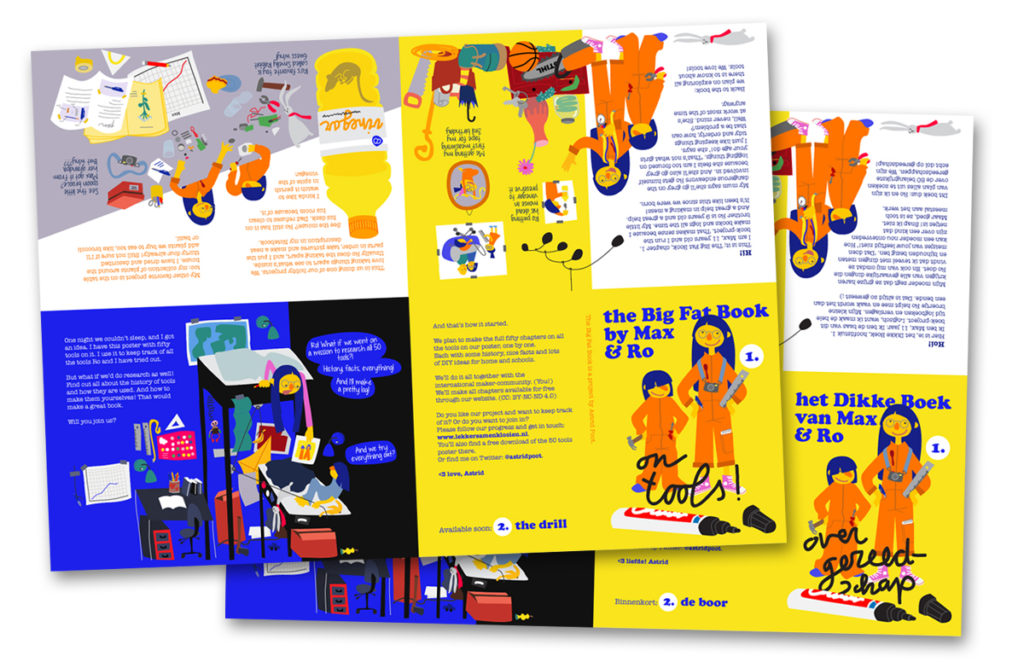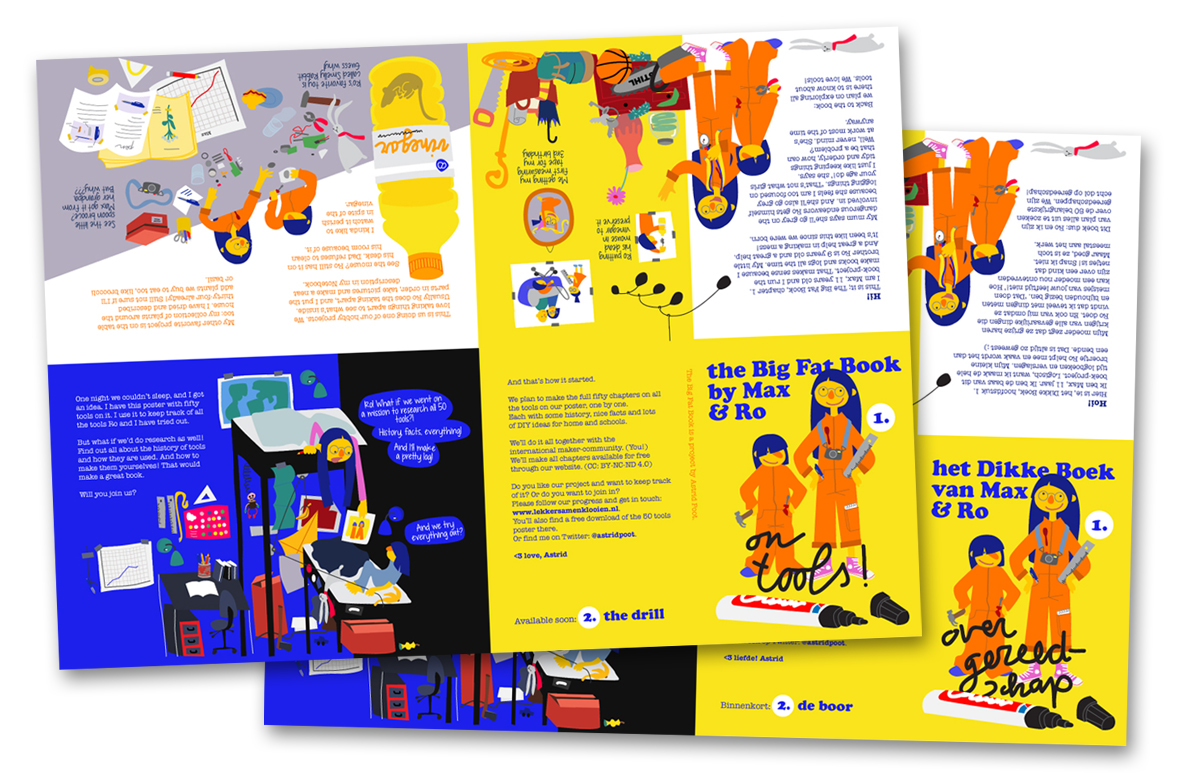 Print on A3 or Tabloid (You can try A4 or Letter too, but the writing will be quite small). Fold it like this:

Would you rather have a digital file to read on your smartphone or tablet:

Max and Ro
Max and Ro each have their own character-traits. Ro being a bit on the wild side, and Max maybe thinking things through too much. During the following chapters they will learn a lot and Max will become more into hands-on experiences, while Ro learns to take a more structured approach (without losing his nerve). It will be inspiring for children to see such development is natural while making!
little things make me happy
Like the family photo's, the awful mouse and the Smelly Rabbit cameo. (My son has this rabbit for real, and it smells!) And what to think about the little red spoon brooch Max is wearing?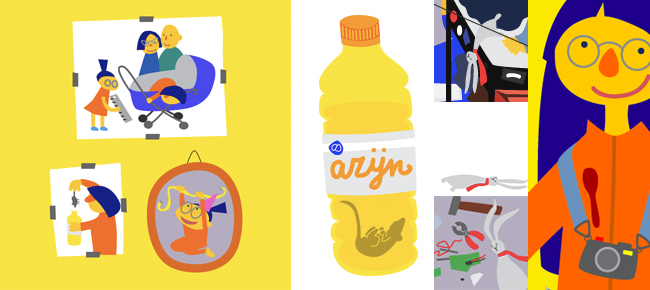 Next chapters
Next chapters will be about actual tools. They will explain about the beautiful origins of a lot of tools. Many great stories there!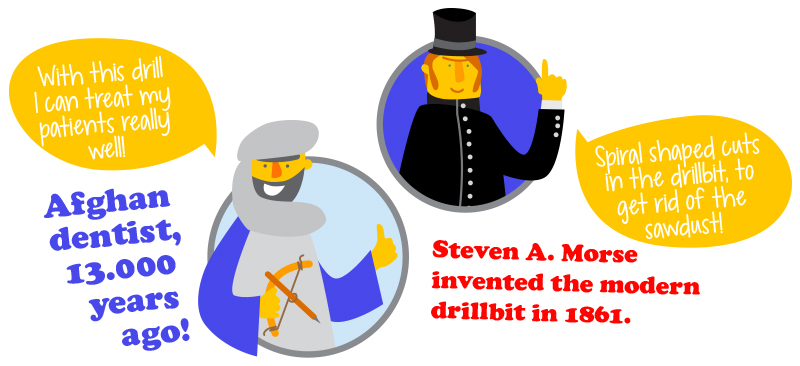 It will tell about proper tool-use and give ideas for your own maker-activity with the tool. (In the chapter of drills we'll be showing how to make your own drill!)

The chapters will be fun to read, but also fun to use while making. In schools, maker-workplaces or at home in families. Most DIY activities will only require common (and cheap) materials and ordinary tools.
The drill
First tool will be the drill. After that is't up to you to decide! Are there any tools you'd especially like or know loads about? Please let me know! And also let me know if you can play a part in creating the chapter. With research, or DIY ideas. (I'll be doing the drawing and designing, no worries.) Contact me through Twitter: @astridpoot.
Enjoy!
I am rather nervous about publishing; I have chronic imposter syndrome. So please print, cut, fold, read and get in touch. I'd love to know how I  score on the imposter-scale.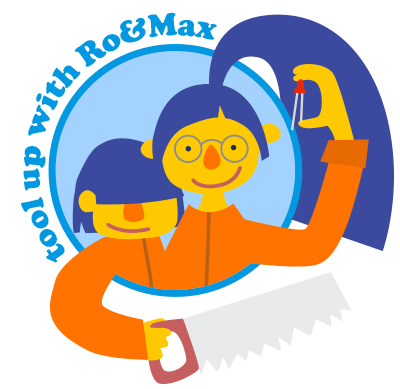 Thank you Susan, Brandon, Claire, Per-Ivar, Floor, Rufus, Karlijn, Peet, Arjan, Annemarie, Patrick, Christa, Sylvia, Tory, Timo, and Olaf.
The Big Book is a project by Astrid Poot.
Links!